A group that brought whistling back into fashion, singer-songwriter Peter Morén from Swedish outfit Peter Bjorn and John recounts his recent music career with Colin Sweetman.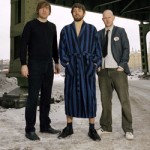 EVEN IF YOU'RE not their greatest fan, you have probably heard something by Peter Bjorn and John. Their most famous song (or motif) is of course 'Young Folks', sometimes aptly nicknamed "you know, that song with the whistling in it… no? From the Mars ad? On the telly?"
As this is their most well-known (in some cases only known) song, anyone would expect that the band get sick of playing it over and over and over again, but this is not the case.
"I'm kind of tired of rehearsing it, but when you play it in front of an audience it's often really good because everyone makes a reaction to it," Morén explains. For every concert they play, the band tries to use a minimum of five older songs, meshing them with their newer more pop-orientated material.
Morén recalls one concert where they played the instrumental tracks from their fourth album, Seaside Rock: "There were people there who weren't really that into us who loved it but there were also people who were also pissed off and walked past and started fights shouting 'when are you going to start singing?'"
The band has been touring ever since the success that followed their third album Writer's Block. This changed their social gigging and writing into something that they could make a career from. Morén explains that in the beginning they all had day jobs, but when 'Young Folks' was released, they could "really start to live out of the music".
When the success of this record took its hold, the trio could devote its time towards playing concerts, recording albums, pursuing solo material and helping other musicians along the way, such as hip hop artist, Drake.
However, Morén is not taking all the credit. "Peter does most of the hard work, he is the producer; I'm quite lazy when it comes to these things".
Their new album Living Things, is due to come out at the end of March, and is a record the band feels very confident about. As with every album they release, Morén explains they have taken a "new direction", although not as outlandish as their last album, which they viewed as a "chance to experiment in the studio". It is obvious that Peter Bjorn and John works hard to keep its audience entertained, constantly "reinventing the band and not taking the expected route because we have always been writing classical pop songs."
But, will their fans be expecting more 'Young Folks', or will they be surprised at their next big hit? "I think labels and managers always want a band to do hits… but we want to continue to do great albums and in my opinion there are more potential singles on this album than on Writer's Block."
"This album goes back into our youth in the mid-Eighties, mainstream beat-pop hits when we were listening to bands such as Fleetwood Mac, Paul Simon, Depéche Mode, stuff that was on the radio, but also a lot of African percussion, Brazilian music, hip hop and old-funk."
"What's interesting is that it's more pop but it's also experimental. Like the way we came into the scene, we use non-instrumental things like bottles, matches, knifes to make percussive sounds. But also, when we use proper instruments we almost play them like drums too. When we use guitars it's more in an African way. But I don't know, it's a great album I think."
With success, there will inevitably be some kind of backlash. This came for the band in the form of criticisms about them 'selling-out' for allowing their music to be used in a Budweiser advertisement. However, in their defence, they did turn corporate giants Coca-Cola and McDonalds down. They contend that "if the money is good" they will sell their work, because "you sell fewer records these days so it's a good way to make money."
Indeed, bands increasingly must rely on a life on the touring circuit to make ends meet. Surprisingly though, the trio aren't sick of their extensive touring.
"I really enjoy it. We have been doing so much now that we're a really good live band. When we first started touring, it difficult but now we have a different set. We got a keyboard, John plays the drums standing up, me and Bjorn have to switch around. We can't get drunk because we have to concentrate. So cup of tea, sleep and concentrate is the new ritual – maybe a drink after the show if we're lucky."
At least they will have more success on this tour than in 1999 where they played their first gig on a boat in Sweden. "[It] wasn't very successful, only five people there and we knew three of them, but you have to start somewhere!"