Na Na Na… One terrible aspect of this album is the number of morose ballads mixed with electro-funk. Although the melodies of songs such as 'So What' and 'Bad Influence' are catchy (kudos to Max Martin), Pink's vocals fail to optimise any musical creativity.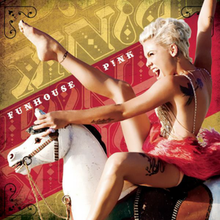 Of course, following her recent divorce from Carey Hart, Pink can be forgiven for including depressing songs such as 'I Don't Believe You' and 'Please Don't Leave Me' (too little, too late) but once again she brings too much of her own life into her music instead of focusing on capturing a universal emotion. Many contradictions are to be found on Funhouse. For instance Pink sings about "learning from the experience" and then threatens "to burn the house down". Contradiction? Apparently not. Someone must have told her that having an excess of ballads is the way to appeal to audiences nowadays – we said recession, not depression. The remainder of the album (from 'Mean' onwards) features tracks which appear to have been thrown out for quantity rather than quality, but this can of course be attributed to any pop artist. She does, however, give her European audience some decent tunes with the bonus tracks 'This Is How It Goes Down' and 'Why Did I Ever Like You' – the former being a song that you will definitely hear in a club near you.
In a Nutshell: More mixed than a pack of Revels. You won't know whether to dance or cry.
Grade: C-