Size2shoes are the launch-pad for a whole new approach to the rock-star mentality. Surprisingly, the only addition to the well-known formula of "Sex, Drugs & Rock 'n' roll" is fierce honesty. While this honesty can sometimes be misread as sarcasm, it still defines the defiance of these two brothers, Eoin and Molie Ó Súilleabháin, who want to make it clear that they are "in this for the money".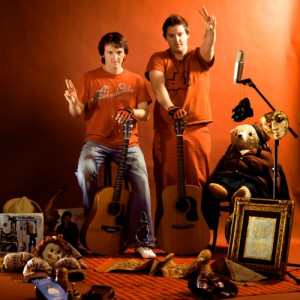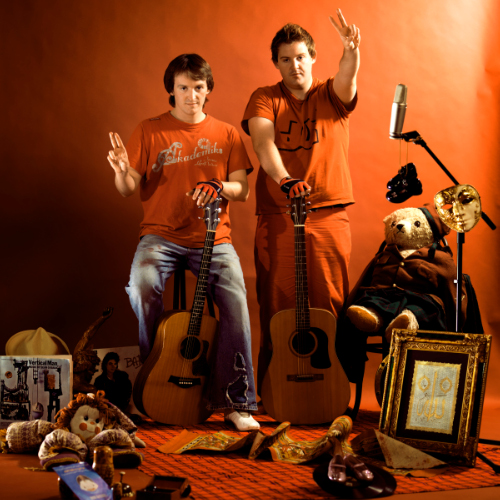 Initially, they just "wanted to get more sex" as they explain that there was "very little of it going around". As for drugs: "We stopped doing those years ago", explains Molie – the reason being that "you can't really do much when you're on them". This doesn't mean that they grew up in the mean streets of Limerick however, likely as that may be for a rocker. Rather, they were roundly educated in the bosoms of their musical parents Mícheál Ó Súilleabháin and Nóirín Ní Riain, who many know around the Irish Traditional circuit.
This would prompt most to believe that the brothers are flailing 'bogmonster' music, which, they say, is entirely untrue. "We wanted to get a lot of issues off our chests", and for this reason, Eoin and Molie decided to create music in the pop idiom and, that it was best to learn how to rap and beatbox while playing their guitars.
Which was not a bad decision at all, given that hearing a Limerick man rapping some Limericks is one of the most comical things known to man. Steven Spielberg approved by getting the guys to showcase some beatbox for an animation, which according to Eoin sounds like "Van Morrison on ecstasy".
This last image can only highlight that they are an incredible live performance. Having played in manys a pub in Ireland, they both have learned that "in terms of importance, it is about how much fun the audience is having on the floor, rather than how much fun we are having on-stage".
Eoin is a fellow Belfielder himself ("I think it's great that the place looks like a Moon Base out of a 1950s cartoon comic" he says of our concrete haven), and therefore has gigged the Student Bar, he knows that in small venues it is essential that everyone is entertained, "even for the people that don't enjoy gigs that much, which is hard to do when there are, years later, still no toilet seats in that place".
Next year the pair hopes to take Russell Crowe up on his offer of recording in his personal studio in Australia. The famous actor – would you believe – is a singer too. They regularly meet with him to sing, dance and party – sometimes in London, and sometimes in Limerick. "He has a great singing voice on him, and he absolutely loves to sing, as do we. So he especially likes us guys".
However, the band is too busy performing shows to even write material, yet alone record some. "We'll definitely take him up on his offer next year, possibly January. Although, you never know."
Size2shoes launch their first single on September 16th in Crawdaddy; €5 off for production of student card at door.