New Late Late Show host Ryan Tubridy graces the Belfield campus once more in this brief interlude with Colin Sweetman
"NEVER SLAG ARTS STUDENTS!"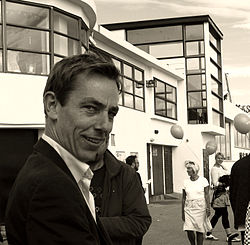 Yes, after battles of pens and swords, Ryan Tubridy gleefully imparts this information to any newbies not yet acquainted with the humble scholar of the Arts. "Just don't do it," intervened that familiar voice. "Because most people who go to this college are, so you're going after a majority when you do that."
However, he is not informing us of past occurrences with Arts students, he is speaking on behalf of them. With a degree in History and Greek & Roman Civilisation, Tubs is 'one of them' – or conversely, 'one of us'. Of course, this depends on your educational background…
Despite this, he is widely regarded for his presenter status, and not for his knowledge in the chronicles of Ancient Rome. In his first outing as host of The Late Late Show, Tubridy made a barbeque out of An Taoiseach Brian Cowen in what was in some viewer's minds the grilling of the summer.
Regardless of the media's representation of how bad or good it was swallowed by either men, Tubridy felt that it "went very well…both myself and Mr Cowen were very happy with the outcome and were pleased to have done [the interview]".
There is a definite feeling of satisfaction with the new host, who brought in over 1.6 million viewers during the course of the two-hour show. "It's been an amazing experience and I love it. People keep coming up to me and saying "Good job, good job" – and it just feels wonderful."
Not all shows are without their proprietor's stamp though. Tubridy, unlike Kenny, brought back the desk and the infamous line "one for everyone in the audience" – although sceptics are naturally sceptical about how long this will last. Other features included Tubridy's house band with a slightly jazzier Late Late theme tune.
Did the Arts degree come in handy then after all? Or was it a combination of lacerating wit and good contacts? "I enjoyed studying here in UCD, and I still use what knowledge I gained here" – the proof that it was not entirely useless.
"I'd say 'not to do nothing' to new students, because it's just better to do something with your time and to get involved in college life instead of just being bored, which is the alternative."